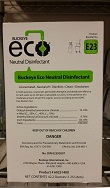 ORDER LIMIT OF 5 CASES
Disinfectant to be used for restroom cleaning, bodily fluid cleanup, etc.
Requires secondary label if used in spray bottle.
Delivered in bottle or bucket configuration in dispenser.
4 per case shipped by case.
Secondary label 6011270
To be used anytime product is used in other than original container.